Add£ºUnit 31, No:777 Huashan Road, Jiangyin, Jiangsu, China
Tel£º+86-510-80610388
Fax£º+86-510-80628132
Trade Show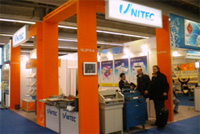 | | | |
| --- | --- | --- |
| | PBW18 Photobook Workstation | |
¡ôCreasing: calculated creasing width and form guarantee
the printed photos folding easily and no crack.
¡ôPhotobook mounting: The unique damping mounting lift,
special glue -proof disposal and Differential Positioning
Systems make the photobook mounting easy, fast and
perfect.
¡ôBook pressing: Uniform pressure and rolling flexible.
¡ôCutting: All-steel machine, professional cutting, accurate
positioning by mm / inch scale rule.
¡ôCase making: Insert & draw settling. Overturn fixed
position on center, multi-model of spine guides changed
easily, equiped with Self-Positioning setting for corner
cutter.
¡ôStorage cabinet and wastepaper collected basket.
Specification:

Model

PBW18
Max.Album Size
18¡å¡Á13¡å
Min.Album Size
2¡å¡Á2¡å
Max.Binding Thickness
3¡å
Max.Creasing Width
450mm
Max. Mounting Size
450mm
Flatten Area
450¡Á600mm
Cutting Width
430mm
Cutting Thickness
40mm
Flatten Height
75mm
Machine weight
120.0kgs
Dimensions(W

¡Á

D

¡Á

H)
760¡Á635¡Á1300mm